Hi - Welcome to my site. There are pictures of my needle felted art on a following page, as well as supplies if you are looking for roving or needles. Exhibits and workshops are listed below.
I am proud and grateful to have been awarded an artist in residency at Acadia National Park in Maine from mid April to mid May. This is an amazing opportunity to focus solely on art in one of the most beautiful and inspiring places in New England. I anticipate diving into the development of two new needle felting-mixed media techniques during my stay. With the uninterrupted time and amazing surroundings I expect to begin creating a whole new body of work, which will be the subject of some solo exhibits in the fall and beyond. Another incredibly validating award, a materials needs grant from Arts Worcester, is helping to fund this work.
So there is a lot to look forward to!! If you would like to travel on this journey with me, drop me an email and I'll put you on my, under construction, blog list.

Exhibits and events

MARCH 3 - APRIL 4 A solo exhibit at the Stevens Memorial Library in Ashburnham in conjunction with Creative Connections Gallery. There will be a reception on Sat. March 3rd 12:00-2:00, (a rare mid-day reception!!)

(away mid April to mid May)

Tentative; May 25 Fri 7:00-9:00 PM at Charlotte's House B&B Open House Show and Tell This will be 2 weeks after I return from my artist in residency. Come for dessert and conversation and to see and hear about the new works created during my time in Acadia. Please call to register as I will need to know how many folks are coming.

(additional summer exhibit in the works)

September Solo exhibit Bolton Public Library
Mid Oct - Mid Nov Solo exhibit Lunenburg Public Library


Workshops and get togethers
March 4 Sun. 10:00-5:00 at Charlotte's House B&B, Bolton Needle Felting Art for everyone from novice to expert. A one day workshop to learn the joy of needle felting art. Bring photos for inspiration and you will leave with an 8x10 matted work of art ready to frame!! Particularly nice because the class size is limited to six ! All materials included, $70. Bring your own lunch, beverages and desert will be provided. Call me to enroll - 978-779-5005.

March 10 Sat 10:00-12:30 Workshop at the Dudley Public Library, contact the library for details.

March 14 Wed. OR March 31 Sat. 10:30-3:30 at The Quilted Crow, Bolton Needle Felted Parrot Tulip project workshop. See their website for details and to enroll.

March 18 Sun. 1:00-5:00 at Charlotte's House B&B, Bolton Open Studio Time
Open to all student's of mine, bring your current projects that you'd like help on, work and be inspired by each other. I am here to help you as needed, and will felt along side you if I have the opportunity. Also a time to purchase supplies as needed. $15.00 bring your own projects and supplies, dessert and coffee/tea supplied. PLEASE CALL to register - only 6 people fit at the table. 978-779-5005

Those are the scheduled workshops for now. Proposals have been submitted for workshops at Worcester Art Museum in the fall, and additional opportunities will be scheduled here at Charlotte's House B&B, check back in June.


Create Your Own Workshop --
If you would like a class for a group of your friends, give me a call I'm happy to provide classes here at the B&B or at your location. The minimum number of students is 4. And I will come to you (within a reasonable travel distance) for 6 students or more.



My book Creative Needle Felting, wool art with a painterly style is available. Although the publishing company closed, I have a healthy supply of books, so this is the place to get one. It's received good reviews and comments from shop owners and individuals. It is well worth the $12.95 with good clear photos and lots of inspiration. If you call me at 978-779-5005 I will be happy to ship it out on a credit card.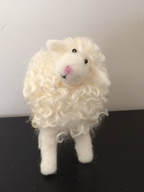 Lyn Slade 96 So. Bolton Rd. Bolton, Massachusetts best email; lyn@charlotteshousebandb.com (978) 779-5005
(also lyn@lynslade.com)