I use colorful wool roving and wool fabric with an embedding needle to create my art. The combination of color and texture is what appeals to me about this medium. It's versatile, fairly forgiving, and the basic method is simple. What could be better!
My "tapestries" are made predominantly with dry needle felting, but occasionally I include wet felting techniques and mixed media embellishments. My work has been in numerous national periodicals, in exhibits in the New England area and has been purchased for private collections.
I teach needle felting (2-D and 3-D) at shops, guilds, museums, art centers, and at the bed & breakfast inn that I own (www.charlotteshousebandb.com) and to private groups.
From the B&B I also sell needle felting supplies; 64 colors of wool roving, needles, patterns, kits etc.
Call for more information and to make sure someone is here if you decide to come to Bolton for supplies 978-779-5005.
News, classes and exhibits;News
I am so honored to be chosen to be an artist in residence at Schoodic Institute in Acadia National Park (Maine) in spring
2018
. Can you imagine? Time to concentrate on nature and art 24/7! I am already dreaming of how to use this gift to best advantage. Perhaps a new technique, maybe a new body of work, for sure many sketches and photos to inspire future work. I expect to create some kind of regular blog/posting while I'm there, should you want to go along on this journey with me email me @
lyn@charlotteshousebandb.com
and I'll let you know when the blog is ready. Thank you to the judging panel for awarding me this amazing opportunity.
I'm pleased to say my piece Misty won 2nd place in the Small Works exhibit at the in of 2017 at The Artists Corner in W. Acton, where you can visit to see other pieces of mine for sale.
You can find some of my more contemporary work at Creative Connections in Ashburnham MA, a gift shop featuring artisan ware and fine art.
And as always, many works are available here at the house (Charlotte's House B&B), call for an appointment.
Workshops
& Open Studio work time
(Ongoing)
Needle Felting Club
at The Quilted Crow, Bolton 2nd Thursday each month 6:00-9:00, call the shop to enroll. Bring your own projects to work on with like minded friends.
Jan. 10 Wed OR Jan. 27 Sat 10:00-4:00 at The Quilted Crow, Bolton
Needle Felting Details
Create a detailed focal point on a cotton background.
See their web site for details
and to enroll.
Feb. 3 Sat. 1:00-5:00 at Charlotte's House B&B, Bolton
Open Studio Time
March 18 Sun. 1:00-5:00 at Charlotte's House B&B, Bolton
Open Studio Time
Open to all student's of mine, bring your current projects that you'd like help on, work and be inspired by each other. I am here to help you as needed, and will felt along side you if I have the opportunity. Also a time to purchase supplies as needed. $15.00 bring your own projects and supplies, dessert and coffee/tea supplied. PLEASE CALL to register - only 6 people fit at the table. 978-779-5005
March 4 Sun. 10:00-5:00 at Charlotte's House B&B, Bolton
Needle Felting Art
for everyone from novice to expert. A one day workshop to learn the joy of needle felting art. Bring photos for inspiration and you will leave with an 8x10 matted work of art ready to frame!! Particularly nice because the class size is limited to
six
! All materials included, $70. Bring your own lunch, beverages and desert will be provided. Call me to enroll - 978-779-5005.
March 10 Sat 10:00-12:30
Workshop
at the Dudley Public Library, contact the library for details.
March 14 Wed. OR March 31 Sat. 10:30-3:30 at The Quilted Crow, Bolton
Needle Felted Parrot Tulip
project workshop. See their website for details and to enroll.
MAY
25 Fri 7:00-9:00 PM at Charlotte's House B&B
Open House Show and Tell
This will be 2 weeks after I return from my artist in residency. Come for dessert and conversation and to see and hear about the new works created during my time in Acadia. Please call to register as I will need to know how many folks are coming.
Those are the scheduled workshops for now. I'll be in Acadia (see above) for 1/2 of April and 1/2 of May and will plan more workshops after that, including some at the Worcester Art Museum.
Create Your Own Workshop
--
If you would like a class for a group of your friends, give me a call I'm happy to provide classes here at the B&B or at your location. The minimum number of students is 4. And I will come to you (within a reasonable travel distance) for 6 students or more.
Exhibits
I have 2 new works in the members exhibit at Attleboro Arts Museum through the rest of January.
For the month of March I will have a solo exhibit at the Stevens Memorial Library in Ashburnham in conjunction with Creative Connections Gallery. There will be a reception on Sat. March 3rd.
Later in 2018 there are plans for 2 solo exhibits in Sept and Oct/Nov which will feature all new works using new techniques I am developing and will perfect while on my artist-in-residency this spring.
My book Creative Needle Felting, wool art with a painterly style is available. Although the publishing company went bankrupt, I have a healthy supply of books, so this is the place to get one. It's received good reviews and comments from shop owners and individuals. It is well worth the $12.95 with good clear photos and lots of inspiration. If you call me at 978-779-5005 I will be happy to ship it out on a credit card.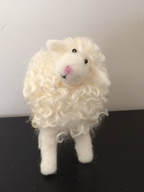 Lyn Slade 96 So. Bolton Rd. Bolton, Massachusetts best email; lyn@charlotteshousebandb.com (978) 779-5005
(also lyn@lynslade.com)